On May 11, 2023, the Minister of Health issues Circular No. 11/2023/TT-BYT providing regulations on no-smoking places and consideration for the conferment of Tobacco-Free Environment Awards.
This Circular details the implementation of no-smoking places as follows:
- Places where smoking is completely prohibited indoors and within estate premises:
Healthcare facilities;
Educational institutions;
Childcare facilities and entertainment and recreation facilities exclusively designated for children;
Facilities or areas with high risk of fire and explosion under regulations in Appendix II to the List of facilities with high risk of fire and explosion, attached to the Decree No. 136/2020/ND-CP.
- Places, where smoking is completely prohibited indoors, include:
Indoor workplaces of state administrative agencies, public non-business units, enterprises, political organizations, socio-political organizations, social organizations, socio-professional organizations, and workplaces of other agencies, organizations, and units;
Indoor areas of public places: food service facilities, entertainment service facilities, railway stations, piers, bus stations, religious and belief facilities, convention centers, commercial centers, markets, theaters, cultural houses, cinemas, circuses, clubs, sports halls, stadiums, community houses and common living areas of apartment buildings and other public places.
- Public means of transportation where smoking is completely prohibited include:
Automobiles;
Aircrafts
Trams.
- Places, where smoking is prohibited indoors but with separate areas for smokers:
Isolation areas in airports;
Bars, karaoke parlors, and dance halls;
Hotels, motels, guest houses, resorts and other tourist accommodation establishments must at least satisfy the following requirements;
Public means of transport that are ships and trains.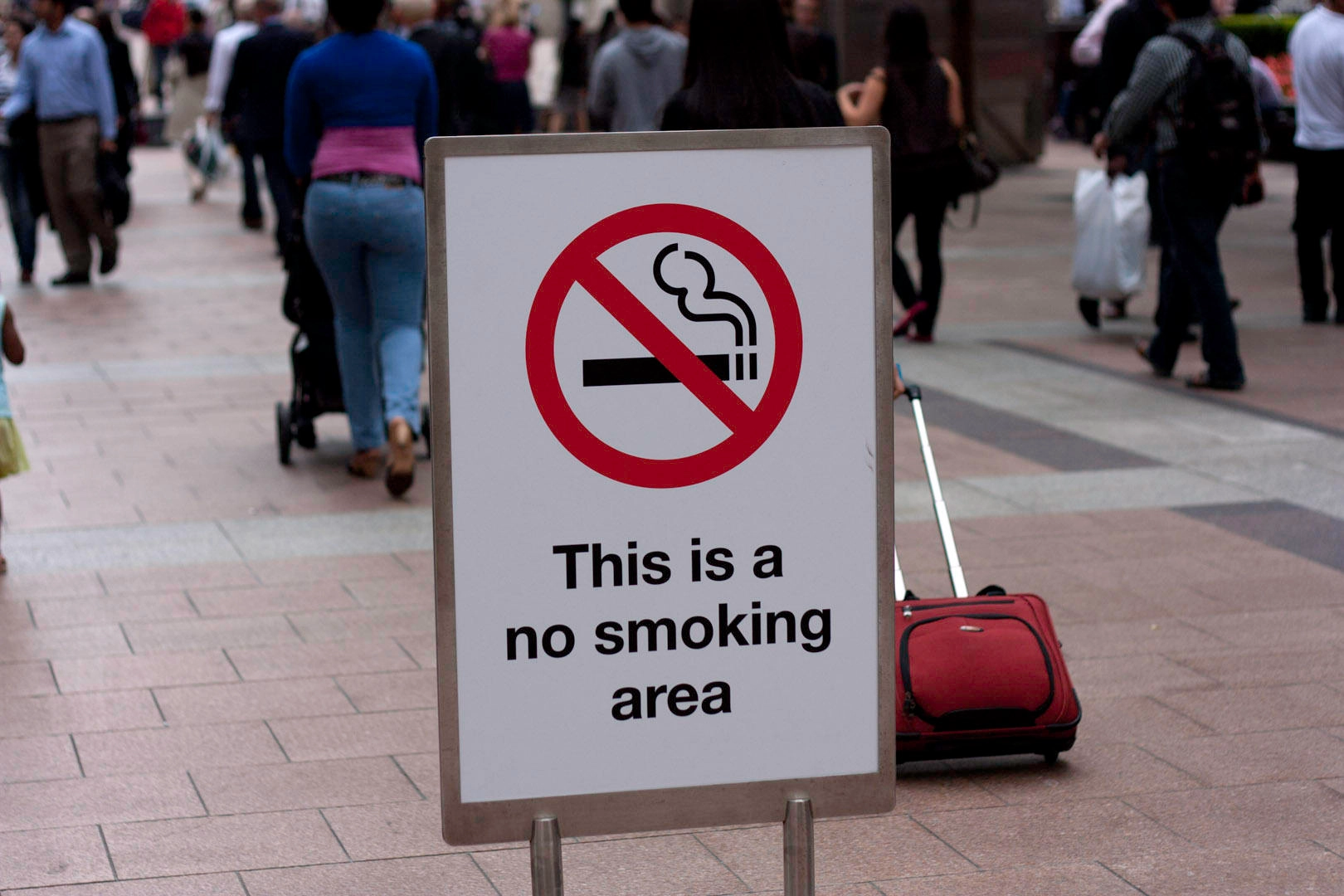 The Ministry of Health has the general requirements for no-smoking places as follows:
- Having placed, printed, or arranged signboards or letters or symbols indicating that smoking is prohibited. The signboards must meet the following requirements:
Having clear, understandable, and concise content;
Durable and fade-resistant signboard materials; signboards placed outdoors withstand the impact of the external environment;
Signboard size and font suitable for the location and space of the signboard; bold and legible text; text color and symbols contrast with the background color;
Signboards placed in public places with insufficient lighting should have reflective properties or appropriate lighting or other suitable methods to ensure visibility.
The placement of signboards must meet the following requirements:
The distance between signboards is appropriate for the scale and space of each place;
The signboards must be placed in easy-to-observe positions, in areas with high pedestrian traffic; entrance gates to outdoor areas and outdoor parking areas; for indoor areas located at doors, front halls, reception areas, waiting chairs, floors of stairs, in elevators, covered corridors, indoor parking areas, restrooms.
- No ashtrays, smoking utensils, tobacco ends, or ashes should be presented at no-smoking places.

Circular No. 11/2023/TT-BYT of the Ministry of Health takes effect on August 01, 2023.