Foreign employees are taking important roles in the insufficient conditions of human resources in Vietnam over the past time. How do Vietnamese laws ensure their rights by public holiday leaves?
In accordance with the Clause 3, Article 2 of the Labor Code (which takes effect on January 01, 2020), the foreign employee is one of the subject applicable to this Labor Code.
13 public holiday leaves
In particular, employees are entitled to fully paid leaves on public holidays in accordance with the Labor Code 2012, including:
Calendar new year holiday: 1 day (January 1 of a calendar year);

Lunar new year festival: 5 days

Victory Day: 1 day (April 30 of a calendar year);

International Labor Day: 1 day (May 1 of a calendar year)

National Day: 2 days (September 2 of a calendar year and 1 preceding or following day);

Hung Kings' death anniversary: 1 day (the 10th of the third month of a lunar year).

In addition to the leaves prescribed in Clause 1 of this Article, foreign workers in Vietnam are entitled to 1 day-off on their traditional new-year holiday and 1 day-off on their national day.
Thus, foreign employees shall have an additional 01 day off on their country's Independence Day beside these public holiday leaves. And the foreign employees shall have 13 day-off and holiday leaves each year.
At least 12 holiday leaves/year for employees with full 12 months
In accordance with provisions at clause 1, Article 113 of the Labor Code 2019, The employee who has been working for the employer for the full 12 months is entitled to a fully paid annual leave as stated in his/her labor contract:
- Twelve working days, for employees working in normal conditions;
- Fourteen working days, for juvenile employees, employees being persons with disabilities, or persons doing heavy, hazardous or dangerous jobs;
- Sixteen working days, for persons doing extremely heavy, hazardous or dangerous jobs.;
For every full 5 years during which the employee has worked for the employer, 1 day shall be added to the number of annual leave days of the employee.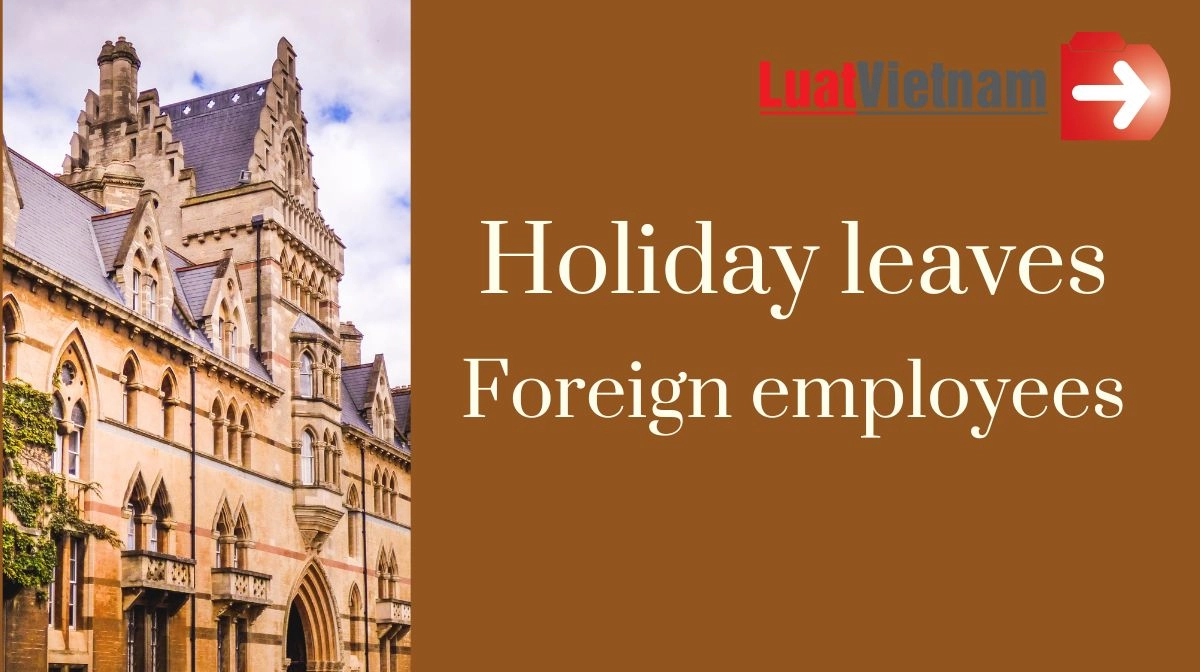 For the employee who has worked for the employer for less than 12 months, the number of annual leave days shall be calculated in proportion to the number of months he/she has worked.
This is the general provision and has no difference between Vietnamese and foreign employees.
Personal leaves are allowed as Vietnamese employees
On fully paid personal leaves, Article 115 of the Labor Code prescribes:
The employee is entitled to fully paid personal leaves as prescribed below and shall notify the leave to his/her employer
- His/her marriage: 3 days
- Marriage of his/her offspring or adopted child: 1 day
- Death of his/her blood parent or adoptive parent; blood parent-in-law or adoptive parent-in-law; his/her spouse; or his/her offspring or adopted child: 03 days.
The case that the employee is entitled to unpaid 1 day off:
The death of his/her paternal or maternal grandparent or sibling, or of the marriage of his/her parent or sibling. 01 days.
Besides the above cases, employees can agree with the employers to have unpaid days off in other cases.
Similarly, the holiday leaves and personal leaves of foreign employees working in Vietnam also be applicable to Vietnamese employees.